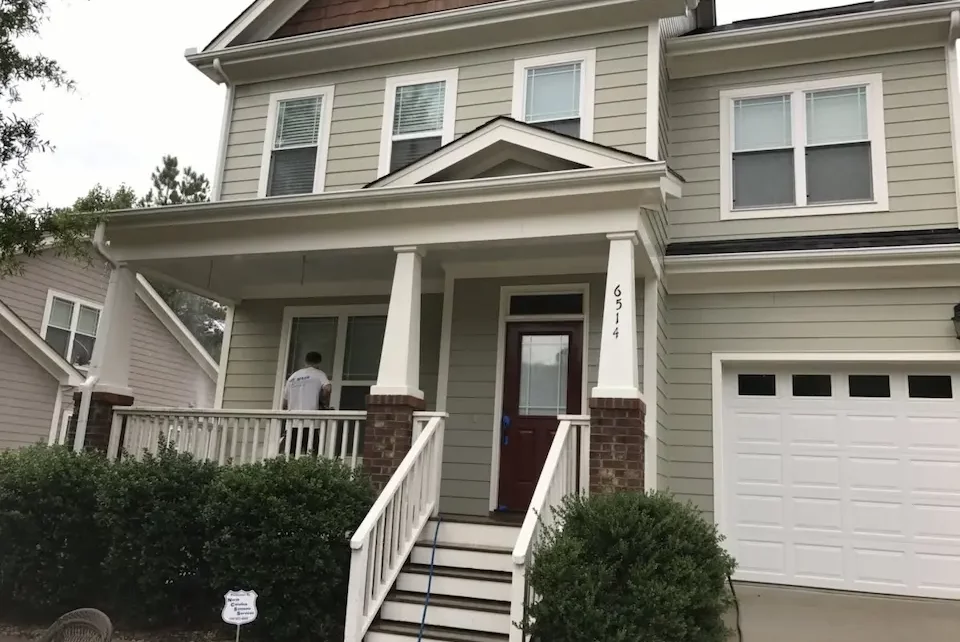 When you look at the outside of your house, does it seem dingy and dirty? If so, you could benefit from a solid pressure washing job. Pressure washing is a great way to remove grime and keep your home sparkling clean.
If you've never hired a company for a pressure washing service, you probably have some questions about whether it's worth it and what the average cost to pressure wash a house might be. That's why we're here to help.
We're going to take a look at some of the benefits of pressure washing a home as well as what factors impact pressure washing prices. As a pressure washing company in Raleigh, we'll also let you know how Blue Wave Pressure Washing can give the exterior of your home the facelift it deserves.
What is Pressure Washing?
Pressure washing uses high-pressure water to remove stubborn dirt and grime. This helps to restore your home's original beauty. Pressure washing can also prevent future damage to your home by removing mold, mildew, and other harmful materials from your home's exterior.
Benefits of Pressure Washing a House
As you decide whether you want to pressure wash your home, consider these benefits:
Cleaner Home Exterior
The most obvious benefit of having your home pressure washed is that your home will look cleaner. Weather conditions and age are among the factors that can leave the outside of your home looking less than clean. But, once you hire a professional pressure washing company, you'll see the difference. By using special cleaning chemicals and equipment, your entire home will be the envy of the neighborhood!
Removing Mold and Mildew
Over time, mold and mildew can begin to form on the outside of your home. This not only looks unpleasant but can lead to allergies. Pressure washing can remove mold and mildew as well as other materials that may get stuck to your home.
Improving Curb Appeal
When people drive by your house, it will immediately look cleaner from the street. The trim looks fresh, the siding sparkles, and the entire home looks clean and inviting. Even if you have older siding, a professional pressure washing job can improve the look of your home.
What Affects the Average Cost To Pressure Wash a House?
When it comes to pressure washing costs, several factors are taken into account.
Size of the Home
The size of the home is a major factor when determining the average cost to pressure wash a house. This determines the labor costs, how much special cleaning chemicals are needed and the time it will take to get the job done. Be sure to ask if the price will be determined per square foot or if there is a pre-established price based on the house size, style, and number of stories.
Location of the Home
The state where you live can also influence the pressure washing cost. States in the northeastern United States and California have some of the highest costs in the nation.
The price can be influenced by local taxes as well as the damage the colder winter weather leaves behind. The style and size of the home also play a role.
Type of Cleaning Solutions Used
The type and amount of cleaning solutions used can impact the cost of pressure washing services. Some solutions cost more than others. Also, if an additional cleaning agent is needed to remove intense stains, it can impact house pressure washing costs.

DIY Power Washing or Professional Pressure Washing Services?
Some people take on power washing their homes as a DIY project but there are some factors to consider if you're looking to avoid a pressure washing bill from a professional company.
DIY Pressure Washing Costs
While you may save on labor costs, there are still costs associated with DIY pressure washing.
Pressure Washer and Required Equipment
Pressure washing work requires the right equipment. If you decide to do the job yourself, you'll have to rent a pressure washing machine and any other equipment to get the job done. These costs can add up depending on how long you need to rent the equipment.
Time Investment Needed
Don't forget about the time it will take to pressure wash your home. Unlike pressure washing companies that have all the time to devote to your project, because it's their job, you have to set time aside for the project. This can result in it taking longer than it has to compared to if you were paying pressure washing companies to get the job done.
Potential Savings from Doing it Yourself
Many people look to pressure wash their homes themselves to save money. While you will save on labor costs, you need to decide if the savings will outweigh the money you will spend on pressure washing machines and other equipment as well as your valuable time.
Safety Considerations
People may not realize how powerful pressure washing machines are. The higher the PSI, the more force is put on a surface. Machines with higher PSIs can cut the skin. This is why you may want to leave the job to the professionals.
Get a Professional Look
If you decide to power wash your home yourself, you may not get the professional look you want. Professionals have the experience it takes to get your home as clean as possible through power washing, pressure washing, or soft washing. Plus, professionals have the right equipment and safety knowledge to get the job done correctly.

Benefits of Professional Pressure Washing Services
Looking for professional pressure washing companies to take care of cleaning the exterior of your home has many benefits.
You won't make a big financial investment.
Instead of making a large financial investment in pressure washing machines that you're not going to use that often, you only have to pay the cost of the pressure washing jobs when you need them. Pressure washing equipment can get expensive so hiring someone to do it can be more cost-effective.
You won't have to worry about damage.
When you hire a professional for pressure washing services, you don't have to worry about damage. Professionals know how to work the equipment because not all materials withstand the higher PSI of pressure washing. Some exteriors require soft washing. Professionals know what needs to be done and will take care of your home.
Minimizes Environmental Damage
If inexperienced people take on a pressure washing job, they could do more harm to the environment. Careless washing can send pollutants and toxins into nearby water sources. But professionals know how to handle these cleaning solutions safely to avoid any harm to the environment and your family.
Get the Job Done Right the First Time
When you decide to pressure wash your home, you want it done right the first time. An experienced team of professionals can deliver this the first time.
Common Questions to Ask When Hiring Professionals
Once you decide to hire a professional pressure-washing company, you'll want to ask these questions:
What type of training and experience does your team have? How are they certified?
Can I see proof of insurance coverage? (Never hire anyone for pressure washing that is not insured!)
Do you have references I can contact?
What is your cleaning process?
What type of cleaning solution do you use?
Do you offer a satisfaction guarantee?
Getting the answers to these questions can help to lead you to the right pressure-washing company.
Typical Extras Offered by Professional Pressure Washers
Some pressure washing companies may offer to pressure wash your driveway or even patio furniture. Some companies also offer fence cleaning. It's important to ask what's included in your pressure washing cost before deciding on which company to hire. These services may be at additional costs.
Pitfalls to Avoid when Hiring Professionals
Once you decide to hire a professional power washing company, there are some pitfalls you'll want to avoid such as:
Not understanding the typical pressure washing technique and the materials and equipment used
Not doing your research about the company
Looking at pressure washing costs alone
Not asking for or checking referrals and reviews
Hiring someone who is not licensed or insured
Contact Blue Wave Clean For All Your Home Pressure Washing Needs
When you're looking to pressure wash your home, trust Blue Wave Pressure Washing to get the job done. We offer competitive pressure washing prices in the Triangle Area. You can trust us to get the job done right the first time with our trained professionals and top-of-the-line equipment. Contact us today to get started on your pressure-washing project!
Call us today at (919) 862-0202 or reach out to us online to request a free estimate.