Morrisville Pressure Washing
The exterior of your home or business gives a powerful first impression. If it looks clean and fresh, people will assume that you care about your property and that the inside must be as nice as the outside. If the outside is dirty and dingy, it portrays the image that you don't care much about your property and will reflect poorly.
Pressure washing services from Blue Wave Pressure Washing can clean the dirt from your residential or commercial building as well as driveways, sidewalks, and more. This type of maintenance is important for the outside of your property in Morrisville, NC.
Blue Wave Pressure Washing in Morrisville, NC
Whether you need a pressure washing service for your home in Morrisville, NC, or your commercial properties, Blue Wave has you covered. We offer high-pressure cleaning with the most efficient equipment to provide professional service every time.
Are you ready for your property to give the best first impression possible?
Let's check out the residential and commercial pressure washing services that Blue Wave offers and how they can benefit you.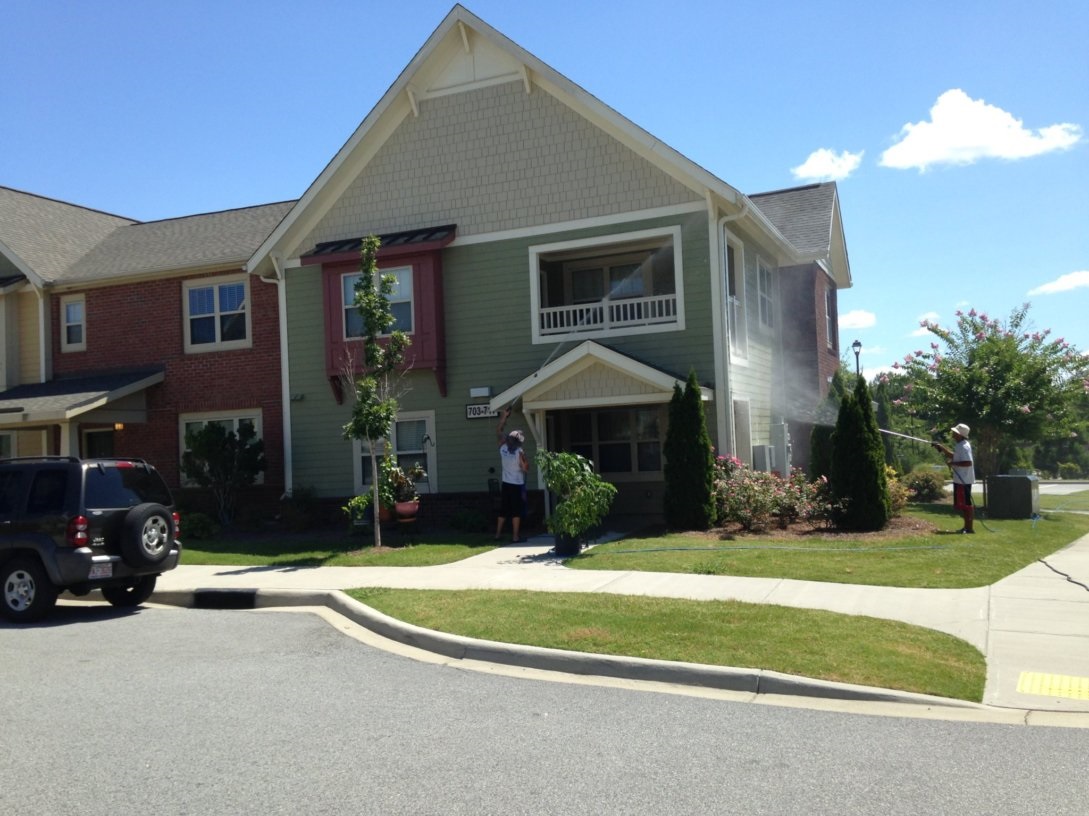 Residential Pressure Washing Services
At Blue Wave, we know that you may need pressure washing for more than the exterior of your home. This is why we also offer services for other areas of your Morrisville home. Maintenance of these areas is just as important.
Morrisville Commercial Pressure Washing Services
You can also count on Blue Wave for pressure washing services for your commercial properties. When it comes to pressure washing in Morrisville, business owners know they can trust Blue Wave to give their property the attention to detail it deserves.
Benefits Of Blue Wave Pressure Washing
There are many benefits of hiring Blue Wave Pressure Washing to take care of the exterior of your home or business in Morrisville, NC. Let's check out a few.
High-Quality Pressure Washing Services
When you're looking for quality power washing in Morrisville, you can count on the team at Blue Wave to use the best equipment in the business. We use equipment that will protect your property while thoroughly cleaning it.
Our customers know that when it comes to power washing in Morrisville, NC, we get the job done with prompt service at an affordable price. We also offer free estimates for our services. Contact us to schedule one today!
Licensed and Insured
The team at Blue Wave is fully licensed and insured so you can have peace of mind when we are working at your house or commercial property in Morrisville, NC.
Environmentally Friendly
When it comes to cleaning products, we only use those that are environmentally friendly. We care about the environment, and we know you do too.
Our products do not contain any phosphates or other harmful chemicals. Our pressure-washing solutions are biodegradable and will not hurt your plants or the environment.
Contact Blue Wave for All Your Morrisville Pressure Washing Needs
When you need professional power washing in Morrisville, contact Blue Wave Pressure Washing and request a free estimate. With our free quote, you'll see that our company offers a fair price for professional pressure washing in Morrisville.
Our friendly and helpful team is here to help you! Contact us today at (919) 862-0202 or fill out the form below to schedule your free estimate.
Let us show you why so many customers in Morrisville, NC trust Blue Wave with their pressure washing needs!