When it comes to power washing services in the Triangle area, Blue Wave Pressure Washing of Raleigh, NC, is your source for professional and reliable service.
Customers get a first impression of your building by its exterior. If the building looks dingy and dirty, it's going to reflect negatively on your business. With exterior building cleaning services from Blue Wave Pressure Washing, you can make a positive first impression on all your customers even before they step into your building.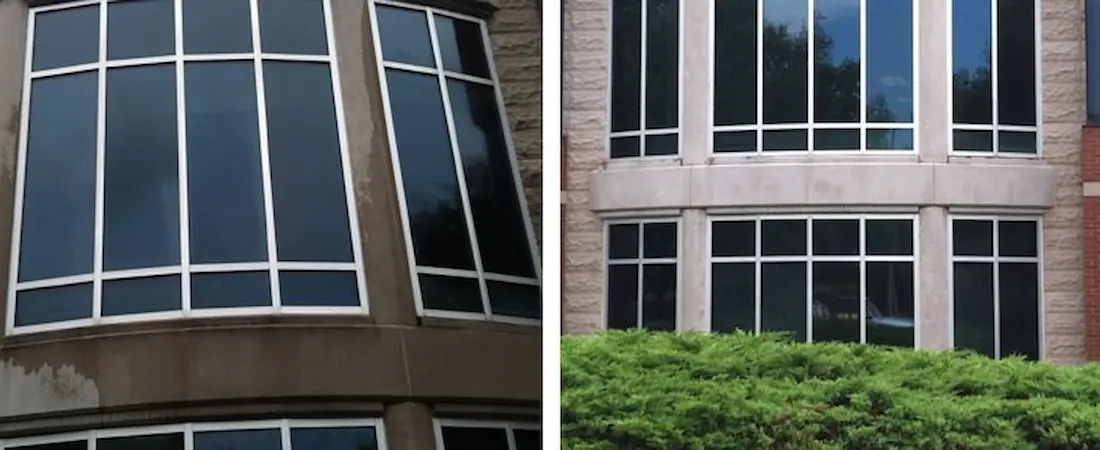 Power Through Dirt, Grime, and Stains With Our Powerful Commercial Building Washing Services
When you hire a professional power washing business like Blue Wave Pressure Washing for your commercial property, you can expect us to get the job done efficiently.
Exterior Concrete Wall Cleaning
Power washing uses a pressure washer to fire a jet wash of hot water to clean your building. At times, even steam is used to clean spaces.
Power washing is often the go-to for cleaning serious stains and grime. It is especially good to treat mildew, salt, and any deeply embedded grease stains. Power washing can be extremely effective on concrete walls, tiles, and other surfaces that can withstand heated water.
Why Is It Necessary To Pressure Wash Large Buildings?
Your business's exterior is prone to damage from the elements as well as mold and mildew. You may even notice graffiti, spilled liquids, or pieces of gum that are left over from time to time. All of these can impact your building's exterior and portray your business in a negative light. This is not the image you want your potential customers to have even before they step foot into your business. This is why commercial pressure washing is necessary.
Besides noticeable dirt and grime, many large commercial buildings have unreachable walls and crevices that get filled with dirt and grime. Pressure washing allows those areas to get cleaned so that every inch of your building is clean.

Benefits of Power Washing
As Preventive Maintenance To Keep Repairs To A Minimum
Dirt, mold, and other debris not only look unattractive on your building, but they can also wear away at it, leading to rot and other damage. Certain building materials, such as brick, can also begin to deteriorate when they are left unwashed.
Bird droppings that are not regularly cleaned can also damage your building. Since bird droppings are very acidic, they can weaken the roof or gutters, leading to a collapsed roof.
When you schedule regular power washing from Blue Wave Pressure Washing, you can minimize these risks and keep your building's exterior looking good as new while avoiding unnecessary repairs.
Remove Pollen and clean mildew stains
When there is pollen, dirt, or mildew present on your building, it can negatively impact your employees. This not only puts their health at risk but can result in lower productivity. Pressure washing gets rid of these substances and can prevent them from developing in the first place. This will help to keep your employees healthy and your building clean.
Increase The Property Value Of The Building
When your building's exterior is clean, it not only looks better but also helps to increase the property value in the long run. Regularly power washing your office building can be beneficial down the road if you wish to lease or sell the building. A better-looking building will attract more offers and allow you to command a higher price. A pressure-washed building helps to maintain its curb appeal and protect your investment.

Building Pressure Washing Frequently Asked Questions
How often should a building be power washed?
Generally, a commercial building should have its exterior, sidewalks, parking lots, and dumpster areas power washed at least twice a year. This will limit the buildup of dirt, grease, and other grime. If a building has a high volume of foot or vehicle traffic, regular power washing may be needed more frequently.
Many people also opt to get their building power washed when the seasons change to minimize the impact of leaves and dust in the fall and pollen during the spring and summer. These allergens can be a problem for employees and guests in your building.
How do you power wash a high building?
The best way to power wash a commercial building is to hire a professional company like Blue Wave Pressure Washing. We have the necessary tools and equipment to get the job done right. While some projects can fall into the DIY category, power washing a high building is certainly not one of them. It can be dangerous to try to do it yourself.
How long does it take to pressure wash a building?
This will depend on the size of the building. Obviously, larger buildings can take several hours to pressure wash, while smaller buildings can be done quicker. The time needed to clean the building will also depend on how dirty your building is.
Contact Blue Wave For Your Commercial Pressure Washing Services Today
If you're looking for the most trusted professional pressure washing services in the Triangle, count on Blue Wave Pressure Washing. Business owners of multi-million-dollar properties in Raleigh, Wake Forest, Durham, Cary, and Apex trust Blue Wave when they want power washing done right. Call us today at 919-862-0202 or fill out the form below to request a free estimate.